Cardfight Vanguard Seal Dragons Unleashed Sneak Preview!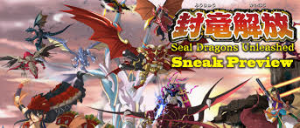 Gamers Guild is proud to announce the next Cardfight Vanguard Sneak Preview!
Seal Dragons Unleashed!
Sunday October 20th 2:00pm
$25 Draft Format
Players will draft a 30 card deck from (6) boosters of Seal Dragons Unleashed!
Each player will also receive a participation promo!
Players will earn a booster pack per win.
Top 4 players will earn a booster per playoff loss and two boosters per playoff win.
Top 4 will also earn an event exclusive playmat!
***limted to 16 players***
Seal Dragons Unleashed includes support for the Kagerō, Tachikaze, Narukami, Aqua Force, Genesis and Angel Feather clans!