When:
February 15, 2019 @ 7:00 pm – 11:00 pm
2019-02-15T19:00:00-05:00
2019-02-15T23:00:00-05:00
Where:
Gamers Guild
1044 Lillington Hwy Spring Lake NC 28390
Contact:
Garrett Steedly
9104972354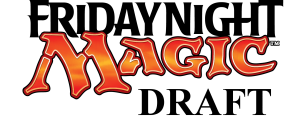 Friday Night Magic Draft
Special Format February
6 Round Event
Best of 1 Matches
20 Minute Time Limit Per Round
1 Free Mulligan Per Game
PRIZES
6 Wins: 5 packs
5 Wins: 4 packs
4 Wins: 3 packs
3 Wins: 2 packs
2 Wins: 1 pack
Top 4/8: FNM Promo
24+ Players = Top 8 Bonus
1st +5 packs
2nd +3 packs
3rd-4th +2 packs
5th-8th +1 pack
Important Note:
Due to the success of our Magic events, Wizards of the Coast asked Gamers Guild to participate
in this experimental format. It should be fast and fun. Unless otherwise posted we will return
to our normal FNM Draft format/support in March. We hope everyone comes out and gives this
a try and gives us honest feedback as to the pros and cons so we can better inform WotC.