Check out all the great events we have going on. We have something for everyone. Subscribe to our calendar to see when we add something new. Only interested in a certain game? Filter the calendar and you can subscribe to just the events that interest you.
Aug
24
Sat
8-24-19 Commander 2019 Release Event!
Aug 24 @ 12:00 pm – 5:00 pm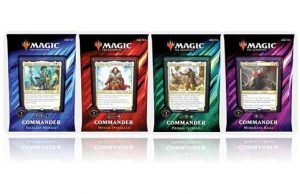 Commander 2019 Sealed Release Event
Saturday, August 24th @ Noon
$35 Entry
FORMAT DETAILS
*Each Player will receive a random 2019 Commander Deck
*Players will be put into pods of up to 4 with as many different 2018 Commander Decks as possible
*The Winning player from each pod will move on to the next round.
*The winning players from the second round of pod play will move on the the final pod.
*Each player in the finals will earn prizes based on final standing
PRIZES
1st: Commander 2019 Deck of Choice
2nd: 8 packs
3rd: 6 packs
4th: 4 packs
If there are more than 4 players in the final pod the remaining players will earn 3 packs each.
**For more Gamers Guild Commander Info Join our Facebook group: NC Gamers Guild Commander