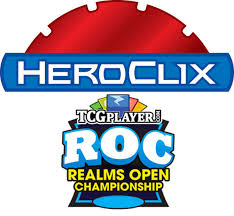 TCGplayer.com Realms Open Championship Qualifier Event
Format: 300 Modern Age
Start Time: 1:00 pm
Event Structure: Swiss
Entry Fee: 15.00
Prizes:
1st – 20 points, set of dice and 2 tokens + map
2nd – 10 points, set of dice and 2 tokens + map
3rd/4th – 5 points, set of dice and 2 tokens + map
5th – 8th – 3 points, set of dice and 2 tokens
9th – 16th – 2 points
**Event Notes**
Each Player will purchase a booster as part of entry.
The rarest figure from each booster will be added to a prize pool.
Gamers Guild will also add 2 Limited Edition figures per 5 players to the prize pool.
Players will pick figures from the prize pool in order of final standings.
Gamers Guild will also award players ROC points and merchandise based on order of finish,