Pokemon BREAKpoint Prerelease coming soon!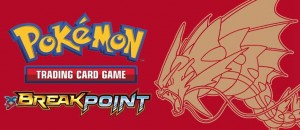 Sunday, January 31st will feature GG's first ever Pokemon Prerelease!
BREAKpoint continues on all of the awesome themes from BREAKthrough including new BREAK evolutions!
Each player will receive (6) boosters and a participation card.
Using the contents of the (6) boosters and any basic energy the players want to use to build a 40 card deck to play with in the event.
Matches will be single game, 4-prize matches.
Swiss Rounds based on attendance with a playoff cut.
This is a pack per win event.
Help GG start the New Year right by kicking off their new series of Pokemon events with a bang!